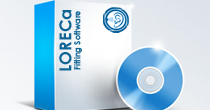 Our LORECa software is independently designed and developed by our R&D team. It supports Hipro1 and Hipro2, and use different cables for different types. After inputting the patient's hearing condition (audiogram), the computer automatically or the audiologist manually compiles the best amplification curve of the hearing aid, and it will return after the patient's hearing changes. It can be easily re-adjusted, and the adjustment is more detailed and precise. Because different patients have different hearing conditions, the software can adjust a specific frequency band or channel according to the patient's hearing curve. The ultimate goal is to enable customers to achieve the best hearing effect.
The software has the function of storing the hearing conditions of multiple different customers so that the audiologist can efficiently provide services to the patients.
And our software supports Windows 7/8/10, which is easy to download.

New program


Fitting that fits everyone: With LORECa' LORECa fitting software(LFS) you can offer your clients an accurate and individualised first fit.(LFS) makes the first fitting more audiologically and acoustically precise. It allows clients to add their personal input at a very early stage and is therefore the perfect framework for the optimal client experience.
Ease of use:(LFS) is easy to use and has a helpful user interface that guides you though each step. The flexibility of the software gives a wide range of fine-tuning possibilities and set-up options. You have the freedom to make each step in the fitting and rehabilitation process as simple or as comprehensive as you like.

Welcome to LFS software LFS 5.1 is an easy to use hearing aid fitting software which covers




https://apps.apple.com/ca/app/axoncnai/id1594054266



http://www.loreca.com/media/uploads/files/loreca-app-v1.apk