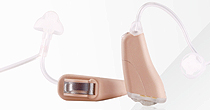 LORECa's goal is to improve the quality of life of people with hearing loss. LORECa is the innovative force in hearing acoustics. With our creative solutions, we strive to overcome technological limitations - so that all people are able to hear, understand and fully enjoy life's rich landscapes of sound.
Represented around the world
Three words are the key to LORECa' success: originality, perseverance and reliability. We strive to pursue these values throughout all phases of our work – from developing ideas right through to the end-user and are ultimately motivated by one ambition: to give people with hearing loss the same opportunities for communication as those with normal hearing.
LORECa revolutionised the hearing aid market when it introduced the world's first digital in-the-ear hearing aid in 2008 and has continued to enjoy substantial growth and success. The company employs 300 people worldwide, including approximately 30 in Turkey, and its products are distributed in almost 30 countries.
All research and development, as well as administration and most of the production, is based at LORECa headquarters in SAMSUN, but the company also has large assembly departments in SAMSUN
Innovations for more quality of life
LORECa stands for innovative solutions in the field of hearing. In our opinion, this is the only way to create hearing aids for all kinds of hearing loss, all lifestyles, ages or budgets. The great variety of our innovations offers a suitable hearing aid for all individuals.